NEJIFU NJF-2 Type C power bank dual USB power bank

The NJF-2 has six adjustable voltage and can charge digital devices with 5V, 8.4V, 9V, 12V, 16V (compatible 16.5V), 20V(compatible 19V, 19.5V).
Like all NEJIFU power packs the NJF-2 is a pro and can be taken anywhere as your "go to" power pack...
 Product specifications:
Model no:


 

NJF-2
 Battery type
LI-POLYMER BATTERY
Input current

19V/2A

DC Output current

5V/8.4V/9V/12V 3A (max)  16V(compatible 16.5V)

/20V (compatible 19v,19.5v) 4.7A(max)

USB Output current
5V/9V/12V 3A(support fast charging)
TYPE-C Output
5V/9V/12V 3A(can charge MacBook)
Material
Aluminium
Size

126*150*28mm

Color
Black, Gray
Net weight

695g

Lifetime

≥

1000times
Conversion rate

≥90%

 

Protection

charge control, charge protection, discharge protection, over current protection, short circuit protection and high temperature protection to protect your devices from damage.

LED digital indicator
indicate with voltage and the quantity of electricity
Working temperature

 -10 

℃-45 ℃

Storage temperature

-20 

℃-50 ℃

Self-charge time

3 hours

Application

compatible with MacBook, MacBook Pro,Notebooks,digital camera,psp,gps,projector,wireless router,tablet PCs,mp3,mp4,ipad,cell phones etc.
Laptop connector: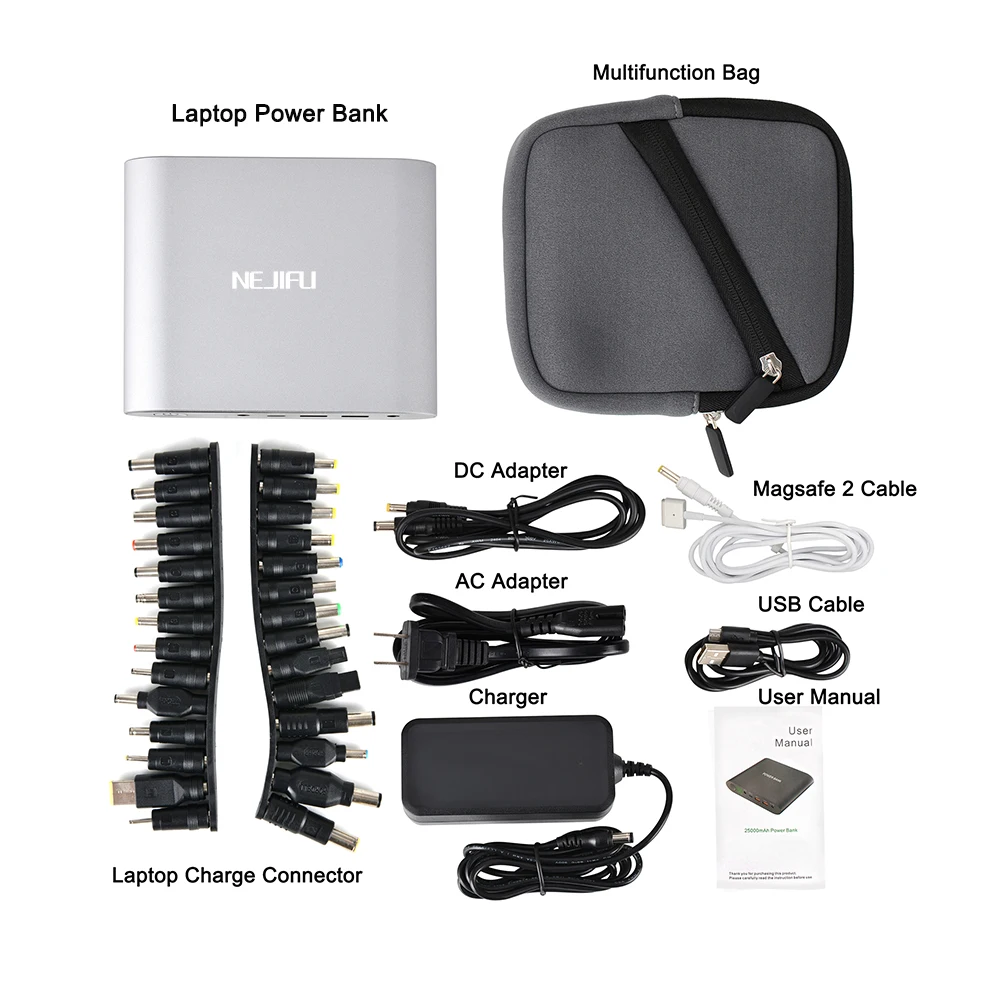 6.0/1.4mm FUJITSU - 16V3.36A/16V3.75A/19V3.16A
6.0/1.4mm SONY - 16V3.75A/4A,19.5V2.15A/4.7A, 19.5V3A/4.1A,19V3.16A 
5.5/2.5mm ACER - 19V3.42A/4.74A
5.5/2.5mm ASUS - 19V3.42 
5.5/2.5mm IBM - 16V3.5A/3.36A,16V4.5A/4.2A 
5.5/2.5mm DELL - 19V3.5A 
5.5/2.5mm HP/COMPAQ - 18.5V1.1A/4.9A,19V3.16A/4.74A,HP 19V 3.95A 
5.5/2.5mm FUJITSU - 19V4.22A 
5.5/2.5mm TOSHIBA19V3.16A, 19V3.42A, 19V4.74A, 
5.5/2.5mm NEC - 19V3.16A/2.64A 
5.5/1.7mm Acer - 19V 2.15A,Aspire one(D270,D257,D250),Aspire one(531h/A110) 
4.8/1.7mm HP - 18.5V 3.5A(HP 500HP530 E300) 
5.0/1.0mm Samsung - 19V2.1A /4.74A(R458 R480 RV415) 
7.4/0.6mm DELL - 9.5V3.34A (M2300 D430) 
7.4/0.6mm HP 18.5V 3.5A 
7.9/0.9mm IBM - 20V3.25A, 20V4.5A 
7.9/0.9mm LENOVO LTEON 20V 3.25A, 20V 4.5A 
3.0/1.1mm Samsung-19V/2.1A(NP900X1B 530U3B) 
5.0/1.0mm Samsung -19V2.1A /4.74A(R458 R480 RV415) 
4.5/3.0mm HP -19.5V3.33A(ENVY14 Pavilion15)  etc. 
 Product
  1)1* NJF-2 power bank
 2)1*home charger  
    1*DC cable  
    1*Magsafe2 cable  
    28*laptop charge connector
    1*multi-function bag
    1*USB cable
 3)1*use manual
Capacity: 15001-20000(mAh)

Output Interface: DC, Double Usb, Type C
Input Interface: DC
Supports Solar Energy: Yes
Battery Type: Li-Polymer Battery
Brand Name: OEM

Model Number: NJF-2
Weight: 695g
Features: Wide compatibility
Battery type: Li-Polymer Battery
Input: 19V/2A
USB output: 5V/9V/12V 3A(QC3.0)
TYPE-C output: 5V/9V/12V 3A(can charge MacBook)
DC Output: 5V/8.4V/9V/12V 3A 16V(16.5V)/20V(19V,19.5V) 4.7A
Color: Silver Black Gray
Charging time: 3 hours

Certification: CE ROHS FCC
Warranty: 12 Months
Dimension: 126*150*28mm
Socket Type: USA EU UK AU